8 Free VST Plugins That Are Great for Vocals
by Voclio
---
Posted on December 2nd, 2019
---
---
Looking for the best free plugins for vocals? We'll share with you 8 awesome plugins that will help make your vocal tracks stand out. From compressors, to imagers, to crazy pitch benders, we've got you covered.
8 Free VST Plugins for Vocals
1. Acon Digital Multiply Chorus
Acon Digital Multiply is a free chorus plugin that works great on vocals. It works particularly well on background vocals by helping to add depth and width to your vocal track. However, both the pitch and loudness of the voices can be modulated, allowing you lots of versatility. Add subtle harmony and width to your lead vocal, or go all out with a full chorus effect.
2. OTT Compressor
The OTT compressor by Xfer records is an absolute must own plug-in. It just makes everything sound better. It is a multi-band compressor, but better. It essentially brightens up the sound of whatever you put it on. Great for brightening dull sounding vocals or adding a touch of shine to your vocal track.
3. ADHD Leveling Tool

The AdHd Leveling Tool is a free compressor that effectively tames the peaks while also giving a bit of character to the overall sound. Perfect for adding a bit of warmth to your vocals.
4. Izotope Ozone Imager
Izotope's mixing and mastering plugins are some of the most popular in the industry. So the fact that they offer this imager for free is awesome for producers. The Izotope Ozone Imager gives you full control over the width of your audio. Use this plugin to easily widen audio tracks.
5. Auburn Sounds Grallion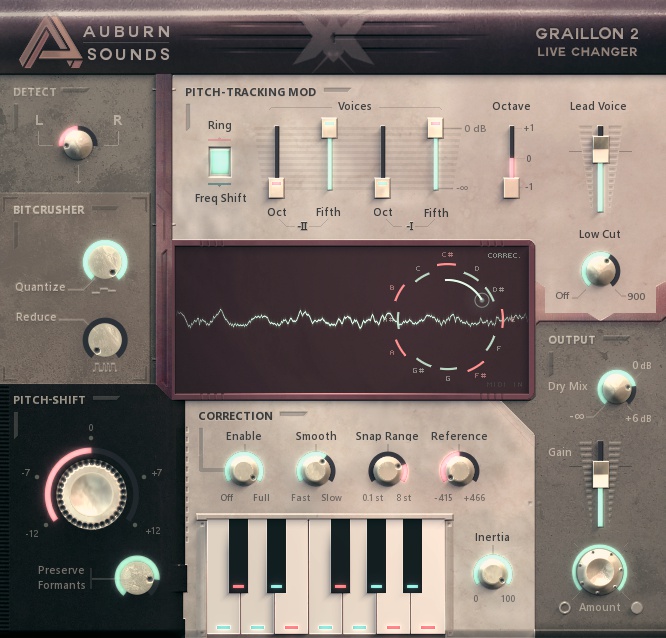 Grallion is a really cool plugin that can create a lot of unique sounds. It enables you to create a variety of pitch shifting effects that can create anything from unique choruses to distorted monstrous vocals. It also can be used simply as a pitch corrector. The free version does have a few limitations but still a great free plugin to pick up.
6. Wavearts Tube Saturator Vintage
The Wavearts Tube Saturator can be used to add a bit of analog warmth to recordings, or increase the drive for some distortion. You can also use it as a saturating peak limiter too.
7. EFEKTOR GQ3607 Graphic Equalizer
The Efektor GQ3607 is a relatively simple equalizer plugin. One of the reasons why this EQ is great because it forces you to use your ears rather than your eyes. With most EQ's you get a frequency analyzer that you can view as you sculpt out your sound. With the Efektor GQ3607, you don't get a visual frequency analyzer which forces you to rely solely on your ears to carve out your sound. This graphic equalizer allows meticulous equalization across seven carefully chosen points which is switchable into three ranges of frequencies.
8. Voxengo Beeper
Voxengo offers a ton of great free plugins. Check them out here. We are highlighting one of their more unique plugins called beeper. Beeper is an auxiliary audio processing AAX, AudioUnit and VST plugin which you can use to insert short beep, noise burst or silence signals to any sound material.  This plugin may help you protect your work from unauthorized use. If you are a vocalist that does a lot of work-for-hire projects, than this may be a great plugin to pick up in order to keep your work protected before getting paid.
---
If you have any questions, comments, or additional thoughts feel free to message us on Instagram @VoclioOfficial. Or drop us an email at contact@voclio.com